Looking for Polaroid film for your camera but you're not sure which type you need? Here's a quick overview of the film options you have.
Polaroid currently produces 5 distinct instant film formats. Some are cross-compatible across camera types, and some are not. The best way to tell which type of film your camera uses is to open the film door and look for a sticker that indicates the appropriate film type for your camera. The possibilities are:
All film types are briefly outlined below. 
Go Type
Go film is the newest and tiniest format for Polaroid analog instant Polaroid Go camera. The biggest difference is the film dimension but the ISO is the same as i-Type film. Polaroid Go film is available only as color film and it comes in double pack (16 instant photos in total). 
Shop Polaroid Go Type Film here

i-Type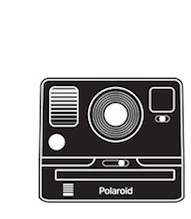 Polaroid created i-Type film exclusively for use with new Polaroid cameras. The important difference between 600 and i-Type film is the absence of a battery inside the film cartridge. This means that i-Type film will not work with vintage Polaroid cameras. New Polaroid cameras have a built-in rechargeable battery, so they don't need a battery to power the camera.
However, if you want to use 600 film with your Polaroid camera, such as a special edition film pack, it will still work.
Shop Polaroid i-Type Film here
600 Type

600 is the most common film type for vintage cameras, and works with Polaroid's popular 600 series of cameras. The majority of cameras will have a number in the 600-series in their name (e.g. Sun 660, LM630, SLR 680, Impulse, Impulse AF and so on). You can always spot 600 film from its blue packaging. 600 film is also compatible with Polaroid i-Type cameras, so if you ever want to use a special edition 600 film with your OneStep 2, you'll have no problems at all.
Shop Polaroid 600 Type Film here
SX-70 Type

SX-70 cameras operate slightly differently from other Polaroid instant cameras, so they need their own film. The biggest difference is the ASA – SX-70 film is roughly ¼ the sensitivity of 600 film, so it needs a lot more light to get a good photo. All folding-type cameras (except the 680/690 SLR models) use SX-70 film. 
SX-70 film is only available in classic color and black & white editions, but if you want to use a special edition 600 film in your SX-70 camera, you can do so with a Neutral Density Filter. You can learn more about this, here. Already got a Neutral Density film filter? Find full instructions on how to install it here.
Shop Polaroid SX-70 Type Film here

Film formats produced by Polaroid at some point in time which we do not support

Looking for packfilm? Please read our article on the subject, here.
If you're still not sure which film to use with your camera, drop us a message, and we'll help find the right film for you.